eMapa – interactive online map
When you are doing your business on multiple physical locations, it is very important for your clients to find location that is closest and has adequate offer.
The best way to show your offer and presence is graphically on interactive geographical map on the Internet.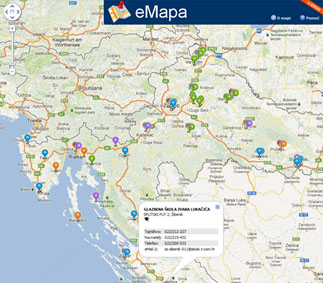 While researching advanced user interfaces, we developed interactive online map suitable for presentation of businesses with multiple locations. Depending on your requirements, interactive map can have the following features:
· all your physical locations marked by customized symbols,
· detailed and brief info about your locations,
· filtering according to defined criteria,
· search engine,
· interface for data editing and entering new locations,
· any other feature you imagine.
Of course, interactive map can also be used to display locations of events, people, vehicles and other objects.
Interactive mapcan be developed as standalone web application or can be integrated into your existing web site. It can be used as online application, but it can also be deployed offline, separated from the Internet. User interface design is completely adaptable according to your wishes.
Interactive map is developed using completely free and recognized web technologies (Google Maps or OpenStreetMap, JavaEE, JavaServer Faces and other.), so it doesn't require any additional licenses. Reliance on free and acknowledged technologies is a guarantee for stability, quality and security of your interactive map.
Applications and possibilities of interactive map are practically unlimited.
We are looking forward to hear your specific needs and ideas!
This e-mail address is being protected from spambots. You need JavaScript enabled to view it